Two local friends, one a business man, the other a local pastor partnered up to provide hope to the homeless community through a compassionate cause. WASHED was birthed out of a desire to have a method of ministry that would allow a consistent ongoing connection and platform to communicate love and hope to the homeless community. DJ Rabe (pastor of The HOUSE Church) and Eric Hogan (owner of Westar Funding Inc, and Kingdom Asset Management LLC) united together in 2016 to launch WASHED, a mobile laundry service that currently serves homeless individuals throughout Snohomish County. Starting with one location, WASHED now operates in 3 locations every week. With the help of passionate volunteers, the support of local churches and businesses, WASHED has become an innovative and effective resource to serve the homeless. As a result, many can say they are now "formerly homeless."
KOMO News Story
Our Vision
WASHED Mobile has a 4-fold strategic vision of…
Cleanliness – Conversation – Connection – Christ
Cleanliness
To clean clothing and provide new & nearly new clothing to the homeless as needed.
Conversation
To have conversations and engage with those most would avoid or ignore.
Connection
To connect the homeless to other helpful community services and/or organizations.
To point every homeless person we encounter to Jesus Christ.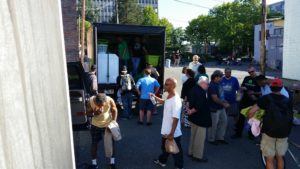 Whoever oppresses the poor insults his Maker, but he who is generous to the needy honors Him. -Prov. 14:31